Minimalism Book Update
Blurbs, review, first excerpt in Harper's of The Longing for Less
Hi!
It was my birthday last week, so I'll use that and the few things that have happened so far as an excuse to send an update on my book, which is The Longing for Less: Living with Minimalism, out January 21, 2020, from Bloomsbury. (If you didn't already know.)
Blurbs
On Bloomsbury's website, you can see that a bunch of other authors have said very nice things about the book, if you needed more persuasion to pre-order it. Some samples of those blurbs are copied below (also you should get all of their books anyway):
"More than just a story of an abiding cultural preoccupation, The Longing For Less peels back the commodified husk of minimalism to reveal something surprising and thoroughly alive." – Jenny Odell, author of HOW TO DO NOTHING
"In its lightly worn learning and serious grace, The Longing for Less functions both as a corrective to our shallow form of minimalism and as a guide to a deeper form that still has a great deal to teach us." – Brian Phillips, bestselling author of IMPOSSIBLE OWLS
"Don't let the title fool you: The Longing for Less overflows. It's a parade of artists, architects, musicians, and philosophers, most of them new to me, all of them fascinating. This book is generous and wide-ranging, a genuine adventure; it's thrilling to ride along with Kyle Chayka as he explores this terrain." – Robin Sloan, author of MR. PENUMBRA'S 24-HOUR BOOKSTORE
"I'm no minimalist, but I am not immune to Kyle Chayka's searching, subtle, and finally quite moving exploration of the beauty of less." – Luc Sante
Review
The book got its first official review from Kirkus, with a star! Which means it's good. After a very perceptive description of the four chapters and the people whose lives I follow, the review concludes: "A superb outing from a gifted young critic that will spark joy for many readers." Marie Kondo joke notwithstanding (I deserve it), I'm very happy.
More reviews are rolling out, but I don't know when, so basically I'm just cowering behind my email and/or manically tweeting about random stuff.
Excerpt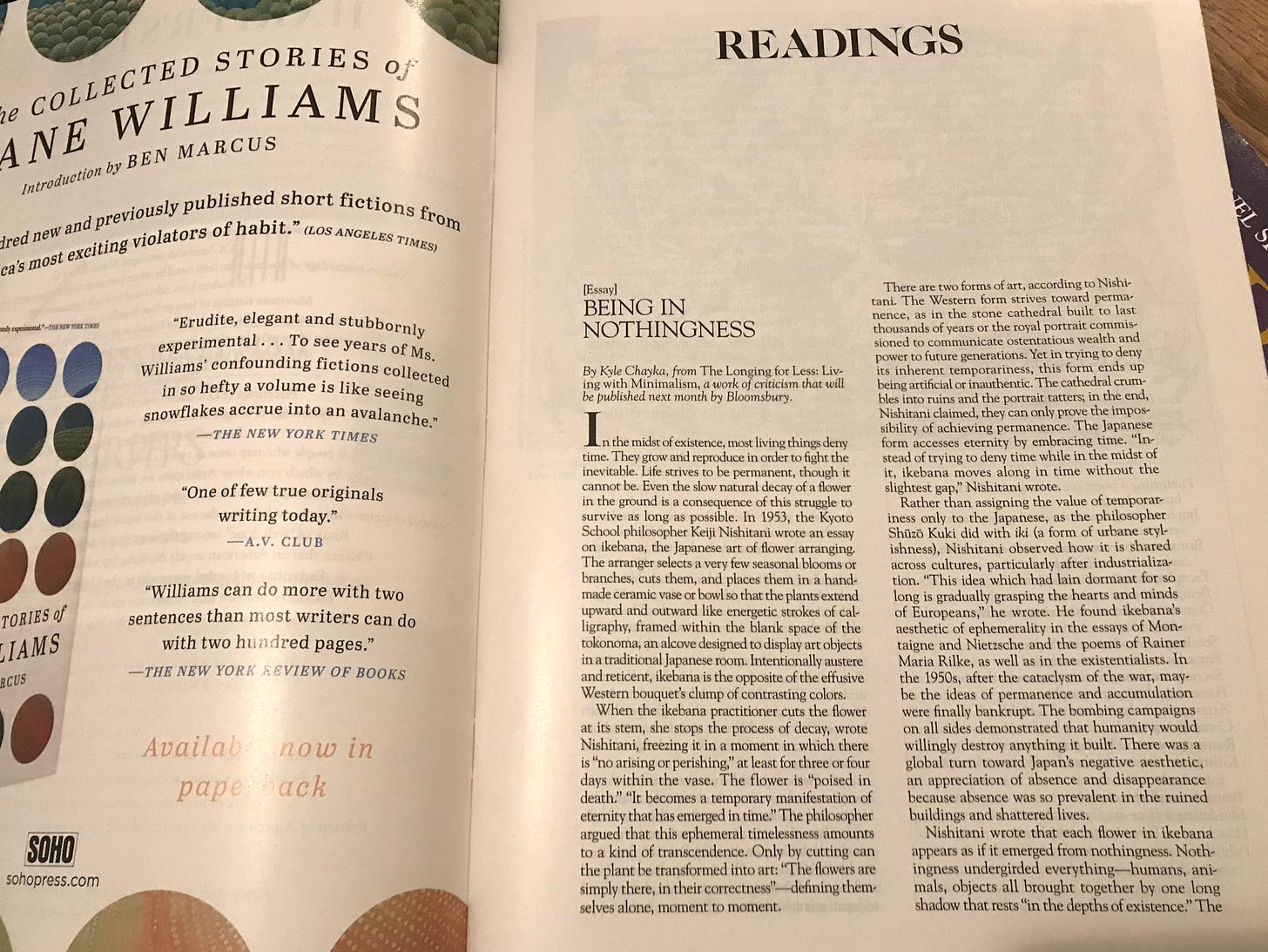 The first excerpt — a section from the fourth chapter of the book, Shadows — is published as the opener of the Readings section of the December issue of Harper's, one of the great American magazines. It's not on newsstands yet (I'll remind you!) but you can read it online! I've encountered so many great books and writers through that section of the magazine and I'm really proud to be included in it.
The excerpt is also one of my favorite parts of the book — it follows an essay from the '50s by the philosopher Keiji Nishitani, who connects the aesthetics of Japanese Ikebana flower-arranging with the rise of Existentialism in western philosophy. I try to show how this idea of minimalism as an alternative aesthetic and lifestyle arose around the world after World War II, inseparable from Japan but not fully of it.
Again link to the Harper's excerpt here.
Hope that convinces you! You can preorder the book at any of these places: Bloomsbury / Amazon / Indiebound / Barnes and Noble / Books-a-Million
But calling your local bookstore and requesting it is great, too.